Do the winter woes have you walking around in baggy sweats and rainboots? Feel like cuddling up and watching reruns of Jersey Shore?
Yes, ladies and gentlemen, I'm here to help bring a little Jersey Shore to Colonial Williamsburg.
You can call me Snookie, and here are some of my expert style tips:
1.
1.
Bump Its.
Ladies, it's time to work the poof. That's right, this winter, the Snookie poof is the
new
Lauren Conrad side-braid. Pick up a set of Bump Its at CVS or Walgreens, and make sure to use the biggest size. You want to look like you have a baseball-sized tumor growing out of your forehead. It will make every Guido in CW notice you.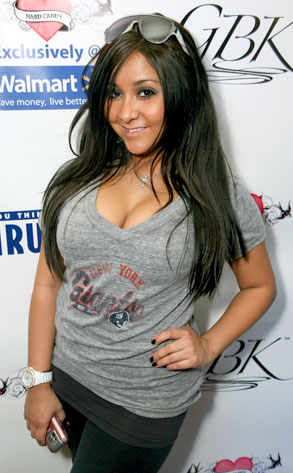 2.
2.
Cleave.
Ladies, two words: PUSH-UP. The more cleavage the better. If you are not naturally blessed in that area, pick up Victoria's Secret new Miraculous push-up bra, which promises to add 2 full sizes for the ultimate, skanky lift.
3.
3.
A Faux Glow.
Bronzer, bronzer, and yep, more bronzer. Don't stop until your face is the color of a brown, paper bag. Also, I'd recommend using a self-tanner all over your body in order to get the deepest orange faux-glow possible.
4.
4.
Foundation.
What do you mean you're
not
a full-blooded Italian? Maybe you are a natural blonde with freckles and fair skin. If so, start covering up those freckles immediately with a thick layer of cakey foundation. It's like frosting a cake- make sure you cover every corner and crevice of your face. You don't want people to see your real skin.
5.
5.
Black Eyes.
Keep your eyes very dark and smoky. All you need is 3 products:
black
mascara,
black
eyeliner, and
black
eyeshadow. Layer them on thickly until your eyes start to burn. Your eyes might start to water, but who cares, it will only help spread that smokiness around your eyes. This tip also applies to all the
gentlemen
out there. Having a black eye will show the W&M ladies that you have that possessive, aggressive blood running through your veins. Who wouldn't want to date that?
6.
6.
Guidette Fashion.
Ladies, despite the recent snowfall, tis the season to rock that short, tight, animal print dress. Make sure it's low enough to display ample cleave too. Whether you got it or not, the rule is simple: FLAUNT IT.
7.
7.
Guido Fashion.
Guys, it's time to invest in some Ed Hardy. Lucky for you, Jon Gosselin's recent public appearances wearing Ed Hardy apparel caused sales to plummet, and now you can find this classy apparel greatly discounted. If you normally sweat through T-shirts due to the intensity of your fist-pumping, consider wearing a wife-beater instead. Speaking of a wife-beater, what a fabulously trashy name for a shirt.
8.
8.
Stunna Accessories.
Work them stunna shades- day or night- it doesn't matter. Bonus points if you wear them on the third floor of Swem. It will be the most swagga the third floor has seen since the bell-bottom trend of the 1970s.
0. 9. Strong Hair.
Gentlemen, to compliment your strong arms, make sure your hair is at maximum strength as well. If you don't go through at least one bottle of hair gel each week, you're not using enough. You want high shine and rock hard stiffness. The ladies will love how sturdy it feels.
10 10.
The 'Tude.
The Jersey Shore attitude is quite possibly your best accessory. Remember these three things: 1. You are always right. 2. You don't have to listen to anyone. 3. No one has a better fist-pump than you.
P.S. This is going to be published as an article in the Dog Street Journal at
www.dogstreetjournal.com/style
. It's my first article for DSJ. I'm excited.