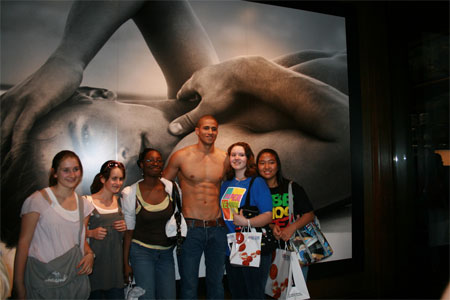 Talk about great customer service! Abercrombie provides half-naked greeters for young girls to take pictures with.
Why wouldn't you want to go shopping in the dark?
Does the button closure on these pants not work? If not, maybe I can get a 10% discount.
Question: If I wear Abercrombie shirts, will it make guys stare at my chest?
I've never seen this wooden post for sale in the stores. I'll have to check the online store.
Wait. Why is his hand up her shirt? Did her back itch? Does it hurt? Does she need a chiropractor?
Wow, such wholesome advertising. This Abercrombie billboard in NYC features a doorway into a gentleman's crotch. What a fabulous idea, right?!
Men, are you self-conscious of your nipples? Lance Lozada models Abercrombie's new line of adhesive nipples. 2 for $10. You know you want them.


Gotta love Abercrombie and Fitch!
XOXO,
Dylan