Yes, the proof is in the pictures. Harry Potter's little lover is all grown up. We can actually learn something from Emma Watson. And no, I don't mean witchcraft. Let's take a look at this upcoming British fashion icon!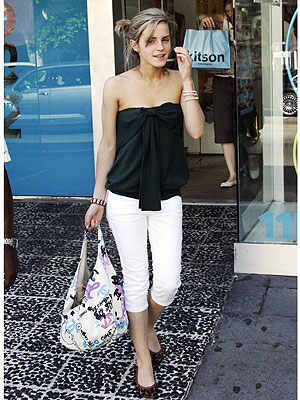 I'm loving her fitted white cropped pants with the looser black top. It's very sophisticated, yet the strapless cut of the top and the fitted pant make it a hott look. I like that she kept the jewelry simple with only a few bangles. It helps show off her neckline and fabulous, glowing skin.
One word: Classy. Emma made the legging trend her own by wearing black pumps and and a 1960's inspired frock dress. At first I thought those papers she was holding was a clutch. Oops! It would have been a cute addition though.
And what a lovely little number we have here. Photographed at the Burberry Fashion Show in London, Emma looks just darling and age appropriate in her yellow and black ensemble, with daring platform heels that accentuate her long legs.
God save the Queen!
XOXO, Dylan